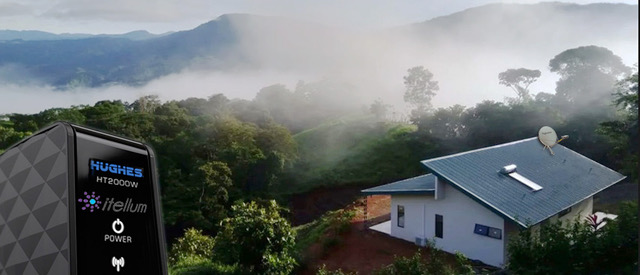 Platanillo, Pérez Zeledón — Satellite Internet in Paradise
Driving down the highway, through the canton of #PérezZeledón and then through the city of San Isidro de El General, you turn to head westward toward the town of Platanillo. This area is a wonderland of thick tropical forests, high mountain peaks — Chirripó, one of the highest peaks in Central America and the Caribbean, and rich, productive agricultural land. Given the rural scenery, you wouldn't imagine that this canton has a population of over 140,000. Platanillo has large farms growing sugar cane, coffee, bananas, blackberries, and some areas raising livestock. Simply put, part of its allure is its mountain climate and expansive farmlands. Residents are an eclectic blend of locals and ex-pats from the United States, Canada, and European countries. 
Only 15 minutes from the laid-back beaches of Dominical and 30 minutes from the amenities of San Isidro, this area of ecological diversity, somewhat off the beaten track is close to everything you need. What else could you want? High-Speed Satellite #Internet comes to mind. It will be a long time before fiber optics or even DSL comes to these areas. So let's explore the Satellite Broadband Internet solution.
High-Speed Access Anywhere
The most significant benefit of satellite Internet is that it provides Secure and Fast Satellite Services to 97% of the country. Users can browse the web, stream video and music, play online games, hold webinars, video conferencing, and more – no matter where they are located. This could be especially useful for businesses or schools in remote areas that may not have had access otherwise.
Cost Savings
Rural Satellite Internet can also save users money on their monthly bills compared to traditional wired broadband services. Equally important is that iTellum reduces its costs by eliminating the need for a terrestrial infrastructure that requires a great amount of manpower and expensive cabling, equipment, and maintenance. This saving is passed on to you, the consumer. This makes it a great choice for anyone who needs Reliable Satellite Internet and Broadband without breaking the bank.
Reliability
One of the biggest advantages of the Internet via Satellite is that it is incredibly reliable – even during inclement weather like heavy rain or wind. This makes it ideal for areas with unreliable wired connections or low population density where other services may not be available at all. Plus, since it uses satellite technology to bring you the Best Satellite Broadband Possible instead of cables or wires, there are no cables to worry about being damaged by animals or bad weather conditions. There are also no worries about bandwidth caps or overage fees that you might encounter with other types of services.
As iTellum expands its High-Throughput Satellite Broadband offerings across Costa Rica, more and more people, schools, hospitals, and businesses will benefit from increased access to Costa Rica's only High-Speed Satellite Internet – regardless of location. You can have confidence in the HughesNet Jupiter2 satellite Itellum uses and its professional, experienced technicians. What's even better is they have an office in Pérez Zeledón making it even easier to get to you!
Itellum Google Web Stories