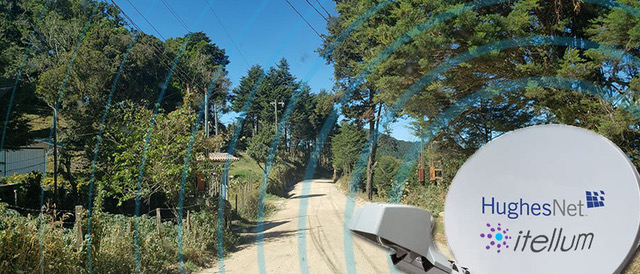 Empalme: Connecting with High-Speed Satellite Internet
Chances are you will not run into a traffic jam in #Empalme. Surrounded by mountains, terraced hillsides growing delicious coffee, Empalme is a small town with cool climate and a lot of rainfall. You are often in the clouds which can make it difficult to see the turbine windmills there and sometimes it's a challenge to see the road, not to mention the picturesque scenery.  Although there is no rush hour traffic to contend with, this is an area that attracts, hikers, cyclists, and motorcycle clubs that have runs that descend all the way to the coast. It's also a wonderful area for birdwatchers.
For the residents and businesses in Empalme, it is a peaceful small community in a natural environment, far from the crowds, yet only about 45 minutes to the south by car to Cartago. And if you want a decent #Internet connection, that is probably what you would have to do. That's not very convenient and is a deal-breaker for many people that might like to live here. The solution to this problem is Secure and Fast Satellite Services offered by Itellum. If you have doubts that Satellite Broadband Internet will not work for you, read on…
1. What Areas does Satellite Internet through iTellum Cover?
On May of 2022, Itellum was granted the position of Costa Rica's official satellite internet provider. The employment of the HughesNet Jupiter 2 satellite gives connectivity to 97% of the geographical area of the country including rural areas and areas not previously connected.
2. How long do we have to wait for High-Speed Satellite Internet to come to Empalme?
Since Satellite Broadband Internet is beamed to you directly from a satellite orbiting the earth, there is no need to wait for the wired infrastructure to be constructed. Other sources like DSL, Cable, and Fiber optics require a wired network to be physically installed in your area. With satellite Internet all the necessary equipment is installed at your home or business and is only a phone call away.
3. How Reliable is High-Throughput Satellite Broadband ?
It is a common belief that High-Speed Satellite Broadband Internet can be unpredictable during rain, wind and other types of weather common around Empalme. But this is a misconception. Reliable Satellite Internet and Broadband is possible because it does not have cable connections and hubs that can be affected by inclement weather and there are no poles that can be destroyed during floods, storms, or vehicle accidents. You don't have to wait for the infrastructure to be repaired before you can get your service back.
4. Does the installation take a long time?
The experienced Itellum technicians know their jobs well and do an efficient installation to bring you the Fastest Satellite Internet Available in a minimal amount of time. Their work provides you with a worry-free service that is professional and stands the test of time and inclement weather conditions.
5, Is Internet via satellite more expensive than other types of internet service?
Rural Satellite Internet does not require a terrestrial network that is costly to construct and install. Eliminating setting up landline cables saves time and money and those savings are passed on to you!
Costa Rica's only High-Speed Satellite Internet provides an affordable option for those who live in remote areas where traditional broadband options are not available or unreliable. This new access to fast internet will bring many benefits and opportunities for the people living in Empalme. From streaming movies and music for homes to video conferences for businesses, Itellum is bridging the "digital divide" for the people in your community.