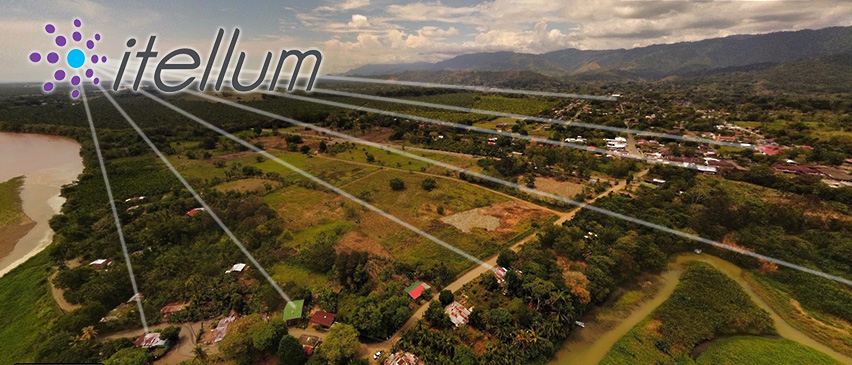 High-Throughput Satellite Internet comes to Puerto Cortés
Admiring the old architecture in Puerto Cortés, you can't help but feel the exuberance of the banana plantation era that was once the heart of this area. The mountains and rivers surrounding the town make it a most scenic setting. Previously known as "El Pozo", it was the home of the Bruncas and Diquís who created the famous stone spheres. It was a small but important port in the area that brought materials and supplies to the town that would later be constructed by the Spanish, making it the institutional center for the Osa. The banana boom lasted from 1938 until 1984 when United Fruit left the area and with it the livelihood of some 20,000 residents. Banana plantations have since been replaced by palm plantations and some livestock farms. Despite the absence of the maintenance of the dam infrastructure that the banana company had built, the community has been resilient battling the floods that have battered the area over the years. Today, important institutions, such as schools and the hospital are still here although attempts have been made to move the town further north to higher ground. The Osa municipality was transferred to a new building in what is now known as Nuevo Cortés. New communities have been built and some residents have made new homes there.
Flooding is still a problem in the central part of town and many residents want to protect the homes and the historical significance of the area. However, it needs better communication to keep the population safe. Terrestrial infrastructure cannot hold up to the fierce power of water. A very viable option is the Internet via satellite; one that can aid communications in a big way.
Itellum and its founder Tim Foss had a vision; one that he voiced last year when the company received official approval as the first satellite internet provider in Costa Rica, "We will connect as many under-connected and disconnected students, teachers, schools, health facilities, rural towns, beaches, parks, and Indigenous zones as quickly as possible throughout Costa Rica with HughesNet High-Speed Satellite Internet. Itellum has a greenfield opportunity to quickly begin connecting the forgotten, ignored, and overlooked rural zones."
High-throughput satellite Internet has been available to 97% of the country since 2022 via the HughesNet Jupiter2 satellite employed by Itellum. Itellum has been bringing Reliable Satellite Internet and Broadband to communities throughout the country and it's having a very positive effect. They have completed well over 400 installations in the last year.
Many schools are benefitting from rural satellite Internet through distance education programs available for both students and teachers. Households in hard-to-reach areas can access streaming videos and music with Satellite Broadband Internet.
All types of businesses, whether retail, industrial, or agricultural can use cloud services, transfer large files, and share streaming video about their operations with the Best Satellite Broadband Possible. It also serves as a reliable backup system allowing continuous connection if the primary internet provider goes down.
Most importantly, especially for Puerto Cortés, is Secure and Fast Satellite Services for medical facilities and emergency services in the event of flooding. #Internet that is reliant on a terrestrial infrastructure such as DSL or fiber optics is very susceptible under such conditions and takes a long time to be recovered or rebuilt.
If a sound levee system can be built to protect or at least mitigate future damages in #PuertoCortés and the surrounding area, Costa Rica's only High-Speed Satellite Internet provided by Itellum would be instrumental in its implementation and operation, providing better safety, and preserving this historical town. So you don´t have to wait more. Contact us now!
Itellum Google Web Stories