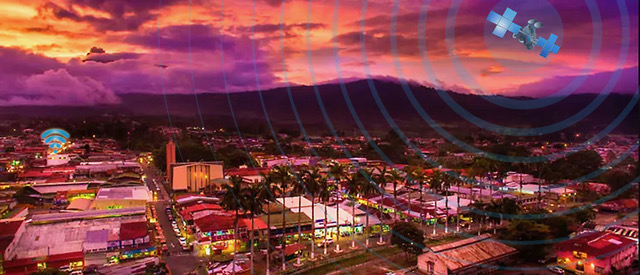 Satellite Internet Reaches Turrialba
Its stunning landscape was once the gateway to the Caribbean coast via the Atlantic Railroad and was referred to as the Jungle Train. It linked San Jose to Puerto Viejo passing through #Turrialba and was originally used to ship coffee and bananas to the port. Destroyed by the devastating earthquake in 1991, it no longer links Turrialba to the coast, but part of the rail system has been refurbished and is used for tourism excursions. This was a blow to Turrialbas's economy but, it diversified and now is known for coffee, textiles, and tourism. It's also home to the only Major League Baseball factory, Rawlings, and is well known for the white water rafting in the rapids of the Pacuare and Reventazon rivers. The Guayabo National Monument is also close by and it is thought to have once been home to 10,000 people as far back as 1000 BCE. Located at the eastern edge of the Central Valley, it is on the way to the Turrialba Volcano, where at its peak one can see Irazú, Poás, and Barva volcanoes.
This city has a lot going for it and serves its surrounding towns well with its amenities. Besides the regular services, such as banking and medical facilities, Turrialba has two universities, the Tropical Agronomy Research and Learning Centre (CATIE), of international influence, and the University of Costa Rica. What else could the residents of the small city want? Many of them might reply, "reliable internet would be nice". But Turrialba is just a bit far for many ISPs to be able to make supplying internet service to this area a viable concept. Enter, Itellum with rural satellite Internet delivering the Fastest Satellite Internet Available.
Costa Rica is now 97% covered by high-speed satellite internet, thanks to the launch of the new HughesNet Jupiter2 satellite employed by Itellum. The significance is that even remote and rural areas of the country can benefit from this improved Satellite Broadband Internet coverage, providing a much-needed boost to businesses, schools, and other entities located in these areas. But what are the benefits of satellite internet? Let's take a look.
Faster Speeds
Internet via Satellite speeds are significantly faster than traditional cable or DSL connections due to recent technological developments in this area. Streaming live video, online gaming, webinars, and video conferencing are just a sampling of what you can do with Secure and Fast Satellite Services.
Cost Savings
Traditional methods like cable or fiber optic connections require an extra wired system that requires significant manpower, expensive cable, and equipment which can add up depending on the location and terrain involved. This cost is reflected in your monthly fee. On the other hand, High-Throughput Satellite Broadband is beamed directly to a dish installed at your location.
More Reliability
Reliable Satellite Internet and Broadband are made possible through expert installations and the technology has made bad weather such as rain and wind a non-issue.
You can Have it Now or You can Have it Now
There is no waiting for months, perhaps years for the wired infrastructure to come to you. You can have it now. Itellum experienced technicians can efficiently install your system quickly at your home or place of business. The Best Satellite Broadband Possible is only a phone call away.
The benefits of Costa Rica's only High-Speed Satellite Internet are increasingly apparent. High reliability, faster speeds, convenience, and affordability make it an attractive proposition for businesses, schools, and residents alike. What's more, you can have it now. Did we mention that before?