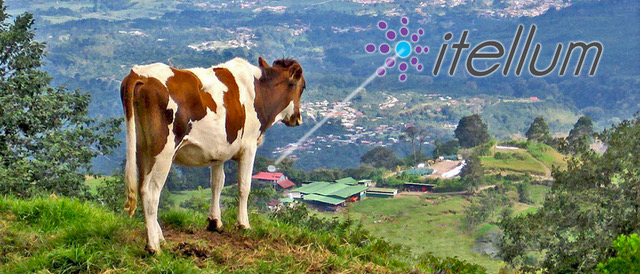 Santa Cruz – Turrialba: Satellite Internet is in Town
Along the winding roads and uneven, hilly terrain, you can't help but notice that this is a sparsely populated area. But it's beautiful, fresh, and the high elevation means it can get very cool. In parts of #SantaCruz, close to the highest parts of the #Turrialba Volcano, temperatures can drop below zero! Yes, this is another unique climatic region where rain is abundant and there may be more cows than people! Home to the delicious and famous Turrialba cheese, Santa Cruz is about to get connected. Its 3800 inhabitants are about to experience the rural satellite Internet from Itellum. No more relying on unreliable internet or no #Internet at all!
The introduction of High-Throughput Satellite Broadband is underway and this agricultural, dairy-producing community can get ready to reap the benefits. We rely on consistent internet for so much and it's difficult to imagine life without it. But this area has been without Internet via Satellite until now. Let's have a look at how Fast Satellite Internet can make a difference in the district of Santa Cruz.
Country-wide Coverage
Recently, internet service provider Itellum has given hope to those living in rural areas without adequate access to the internet. iTellum is now offering high-speed satellite Internet that can reach 97% of the country's geographical area, thanks to the HughesNet Jupiter2 satellite they have employed. This, of course, includes Santa Cruz.
Speed and Reliability
One of the biggest advantages of Reliable Satellite Internet and Broadband is that it's fast and dependable. Unlike terrestrial internet options like cable and fiber optics, which require extensive infrastructure on the ground, Satellite Broadband Internet is beamed directly to you from a satellite orbiting the earth. This means that you can get high-speed internet no matter where you live and you'll never have to worry about your service being interrupted by a storm or other nasty weather conditions due to this new technology. This is especially welcoming for the people of Santa Cruz who can get over 3,500 mm (138 inches) of rain per year!
Easy Installation and Maintenance
Another advantage of the Fastest Satellite Internet Available is its easy installation and maintenance process. On-site installation is done quickly and professionally by Itellum experienced technicians. The majority of any infrequent maintenance issues that might occur can be handled remotely without the need for a technician present.
Cost Savings for the ISP and you.
There is no longer a need for the "on-the-ground service" to come to you. Systems like DSL, cable, and fiber optics require a wired infrastructure which is costly to the service provider. And of course, this expense is passed on to you, the customer. All you need is a small dish and a modem installed at your premises which Itellum supplies — no need to research where to buy equipment. This makes it more cost-effective than using traditional methods and even better availability because there is no waiting for the service to be offered in your area.
Access for Homes and Businesses
In your home, you can stream movies and music, download large files quickly, play online games with people clear across the globe, and have a video chat with distant friends and family. Businesses can use video conferencing, attend online webinars, and send files as well as store their data safely off-site in the cloud. This keeps data safe from viruses and hackers because satellite transmission is secure.
Itellum is delivering Costa Rica's only High-Speed Satellite Internet now in Santa Cruz. Get ready, life in the "cheese capital" is about to change.