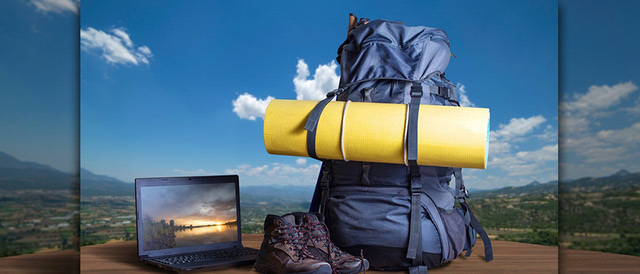 Considerations for Digital Nomad Life in Costa Rica
So you've decided to become a digital nomad and take your work on the road. Congratulations! Costa Rica is a great place to do this, with its stable government, friendly people, and great infrastructure. If you are looking to move here, you've undoubtedly heard this or read about it. If you already live here, consider that you are halfway to becoming an independent digital nomad in one of the best places to live on this earth. Regardless of your current living status, there are some things you'll want to keep in mind as you make the move to working online here. In this post, we'll discuss some of the basics of living in Costa Rica as a digital nomad.

These days, more and more people are opting for a digital nomad lifestyle. An escape from the traditional 9-to-5 job, digital nomads can work from anywhere in the world with a solid internet connection. Costa Rica is one of the most popular destinations for digital nomads, thanks to its welcoming attitude and superior internet. Although not all internet services are created equal here, the High-Throughput Satellite Broadband made possible by iTellum, enables the user to live almost everywhere in the country. You are not limited by having to live in the busy city areas to have the best internet in Costa Rica. So how do digital nomads make money while living in Costa Rica?

There are a number of websites that connect digital nomads with companies and individuals who need work done remotely. From writing and web design to marketing, customer service, and general business outsourcing, there are online jobs available in just about every field. Registering with these online employment sites is relatively easy and normally requires some references and proof that you will have adequate internet service which is achievable through Reliable Satellite Internet and Broadband. Another approach would be to transfer your existing employment to a "remote position" if available through your current employment. More companies are opening up to this possibility given that they recognize that people are leaning toward working remotely, whether it be in the same town, country, or elsewhere, or simply outside of the companies' normal territory. They'll often give options of onsite jobs, remote jobs, or a hybrid arrangement. Sometimes you can choose to merge into a purely remote position by working in a hybrid arrangement first.

If you work in a particular profession you can search for platforms that cater to your specific knowledge base. There are also numerous general platforms where you can search for a variety of online jobs. In addition, you can work for many language schools  that exist both locally and online. They generally do not pay as well as other employment, however, if you choose a local one be aware that they may ask for your legal residency although this is not common. One thing that is always a prerequisite is stable internet that is fulfilled by the fastest and most reliable internet in Costa Rica served by iTellum in the form of internet via 1:1 international fiber optics available in many populated areas and Costa Rica's only High-Speed Satellite Internet in areas that previously had little or no internet. If you have a good command of the English language and/or any other languages, it is a good way to supplement your income in your spare time.
There are some interesting and perhaps unusual benefits to living the digital nomad life in Costa Rica.

You have many geographically diverse areas to choose from that have different climates and natural environments.
The Costa Rican people (Ticos) are friendly and very welcoming, and most are willing to help you if they can.
The number of outdoor activities is endless; whether you want to go hiking in exotic destinations, world-class sport fishing, surfing, snorkeling, zip-lining, skydiving, paragliding, bird watching, horseback tours, volcano tours, and too many options to mention all of them here.
In the central valley, there are numerous shopping malls, cinemas, the National Theater, Gold Museum, Jade Museum, Children's Museum, extensive medical care, hotels, restaurants, and the list goes on.
If you have children there are many private schools in more populated areas including some beaches.
There are also reasonable private hospitals that are state-of-the-art with an abundance of medical professionals
Dentistry and cosmetic surgery are major attractions here and many people combine vacation and these procedures because of the professional care at very good prices — often substantially less than what you might pay in your home country.
Homeopathic and natural medicine is plentiful and recognized
Yoga classes, retreats, and wellness centers are available almost everywhere.
Ticos are passionate about soccer and you can find a game on TV or live. Also, it's a lot of fun to go to the many sports bars for soccer games or even your favorite sport.
The availability of your favorite food products may not be on the shelves in outlying areas, but in the central valley, many grocery stores carry a wide variety of imported products.
Bus transportation is plentiful and people travel all over the country on public buses and private shuttle services.
However, it's not all good news. Here are a few of the "cons" you may encounter whilst living and traveling around the country, some of them are amusing, others not so much.

If you are planning on buying a car here, be aware that cars are expensive and include high import taxes. There are no car manufacturers here.
Although the infrastructure is being improved, it is an ongoing and slow process, so watch out for potholes (sometimes referred to as "craters"). Don't be surprised if you see a palm branch sticking out of a pothole as a warning! Road conditions can vary all over the country, but some of the roads are in very bad shape and can be hard on a vehicle over time.
Going to the beach on a holiday weekend can be a very long process as Ticos love their country and much of the central valley ventures out to the beach. This causes traffic jams beyond belief so exercise caution during Christmas and Semana Santa (Easter). So if you live in the Central Valley and you stay there during these times, you will enjoy a quiet time and very little traffic.
Power outages can happen all over the country, but fortunately do not last long under normal circumstances. That said, during thunderstorms and high winds, electrical lines can come down and transformers can be damaged. Having a good UPS (Uninterrupted Power Supply) is a good measure and these units are readily available here.
Internet services vary throughout the country so finding the right provider is tantamount. Do your research before renting a place that claims to have good internet. Providers may at times sell a service based on an internet speed that they are unable to achieve on a consistent basis. You will be better off if you contract your internet connection yourself if the property owner/manager will allow you to. iTellum has coverage all over the country whether you choose fiber optic connectivity or the fastest satellite internet available.
All in all, the advantages of being a digital nomad in Costa Rica far outweigh the challenges.