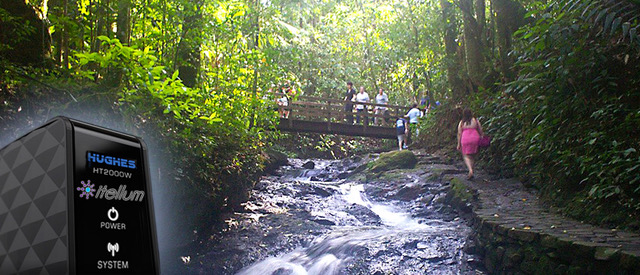 Best Satellite Internet is possible now in Aguas Zarcas
A diverse, biologically, and geologically, abundant district with foothills formed by a host of inactive volcanoes, rich soil, natural hot springs, jungle vegetation, waterfalls, and thermal hot springs that are as beautiful as they are captivating is how the area around #AguasZarcas can be described. Dotted with chicken farms supplying one of #Costa Rica's favorite foods, farms with crops of cassava (yuca), pineapple, and other citrus fruit, and the processing plants that prepare the local produce for exportation and local consumption is what encompasses Aguas Zarcas. The area not only has magnificence but an economy that supports, art, sports, and traditional culture. It is a thriving atmosphere with "down home" friendly folks that care about each other and their community.
But what about communications? Fiber optic Internet has grown rapidly in Costa Rica however, it is only accessible as quickly as the infrastructure can be built. That means waiting until those long kilometers of cables come to you. And depending on where you live, that could take a while. If you live in Aguas Zarcas area, be prepared to wait.
However, it's not all bad news. Itellum, the internet service provider has rural satellite Internet available to you now. Let's learn more about the #Internet via satellite.
1. Availability
Although areas of Aguas Zarcas have some coverage with fiber optics, this is primarily in the higher populated areas. However, through their use of the HughesNet Jupiter2 satellite, Itellum can provide the Best Satellite Broadband Possible to 97% of the country. In 2022, having received official approval as the official satellite internet provider, the founder of Itellum, Tim Foss, had a vision, "We are committed to closing the digital divide in #CostaRica and we want to be taken into account for the development of projects where it is impossible to deploy fiber optics, copper or coaxial cable and even where there is no coverage of 3G and 4G mobile networks."
2. Reliability
Are you concerned about how bad weather will affect your Fast Satellite Internet service? It is a common belief that unpredictable during rain, wind, and other types of weather that can occur around #AguasZarcas. The only thing we can't be sure of is incoming meteorites! However, this is based on a false impression. There is no infrastructure on the ground. This eliminates water infiltration into cable connections, hubs, and connections to your building. There are no poles that can be struck as a result of a vehicle accident and no waiting for the repair crew to fix it. The experts know how to install your system with the best equipment which is what makes Itellum Reliable Satellite Internet and Broadband advantageously different than other satellite systems.
3. Benefits to Aguas Zarcas
Streaming movies and music, downloading large files quickly without any lag time or buffering issues are a reality. Distance learning programs can become accessible for students that want to continue their studies from home instead of having to travel long distances for classes. For local schools, it means the teachers can construct an ever-expanding curriculum, giving their students higher learning potential and exposure to superior learning tools and information with the Fastest Satellite Internet Available. Businesses benefit from Secure and Fast Satellite Services that allow them to show clients their products and negotiate via video calls. With the signal being transmitted directly to you from an orbiting satellite, interception is avoided making precious data safe.
Aguas Zarcas is becoming more attractive to visitors and residents looking for a healthier lifestyle. The natural hot springs bring locals and tourists alike. The unique flora and fauna and volcanic formations have attracted renowned scientists and recently, digital nomads wanting to work remotely also need High-Throughput Satellite Broadband to facilitate their work.
Costa Rica's only High-Speed Satellite Internet is making a difference with the rural population all over the country. It can make a big difference for Aguas Zarcas too and other rural áreas. So you can contact us now!
Itellum Google Web Stories