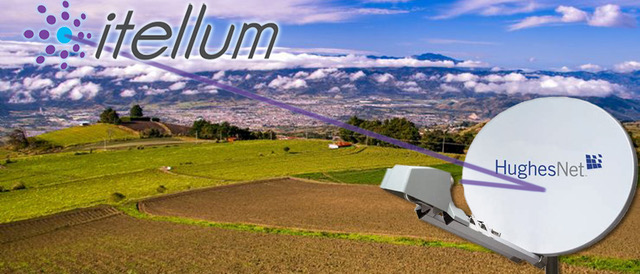 Esparza — Satellite Internet is knocking on your door!
Looking at #Esparza today, you wouldn't imagine the turbulent history it has had. It is one of the oldest towns in Costa Rica, founded under the name of Espiritu Santo in 1577, and has endured conquests, name changes, total devastation in fire by pirates, and a mass exodus from the town due to the destructive fire. All that was left standing was the church and the convent. The population gradually increased and flourished again with the construction of the Pacific Railroad which was the main connection with the Central Valley and a means to bring agricultural produce to the port for exportation.
Today it is a small city with many conveniences with both public and private schools. If you live within the city you may be lucky enough to be in a "pocket" that has good #Internet access. However, if you are in the more rural areas you may not have this advantage. For residents of the lush farming communities, you may have to wait quite a while to see fiber optic Internet come to you. But, the solution is being dealt with by the internet service provider Itellum by bringing rural satellite Internet to areas with little or no #Internet. This may also appeal to some people as a welcome alternative to the Internet service they already have. Let's travel into space to learn more about the internet via satellite.
The HughesNet Jupiter2 satellite currently orbiting our earth is now being used by Itellum to bring High-Throughput Satellite Broadband Internet to 97% of the country.
Curious to know more? Let us answer some questions you might have.
What about reliability during the rainy season?
There is no need to worry about the amount and frequency of rain in #Esparza and the surrounding area. Many people believe that the Satellite Internet is prone to fail during thunderstorms and windy conditions. Since there are no cables and exterior connections to hubs that are shared with other users, the infiltration of water is not a concern. New satellite technology and superior equipment deal admirably with this previous drawback giving you Reliable Satellite Internet and Broadband even in remote locations.
Why has reliable internet not reached rural Esparza until now?
The majority of ISP would like to offer terrestrial Internet but, oftentimes it's too expensive an undertaking. Internet systems such as cable, DSL, and fiber optics need a wired infrastructure requiring the installation of cables, hubs, and in some cases poles to bring the service to you. This means increased manpower, vehicles, equipment, and supplies. The result is these expenses are passed on to you in the monthly fees. These types of services might be offered in the future, but it is going to take an undetermined amount of time before you might receive them in your location. High-Speed Satellite Broadband Internet can be installed at your home or commerce without the necessity of a wired network.
Will I be able to watch movies?
Regardless of the plan you choose with Itellum Fast Satellite Internet, you can play video games online, stream movies and music, and have video chats with family members living far away without any lag time or buffering issues. There's no need to go to the kitchen to pour yourself a cup of coffee while you wait for a large file to download.
What equipment do I need before installation and how long does it take?
Satellite Broadband Internet is an efficient, professional installation performed by Itellum experienced technicians. They are very proficient at their jobs and will have you up and running in a matter of hours. They will install the dish and modem. All you need is your computer, tablet, or whatever device you choose.
What are the benefits of High-Speed Satellite Internet to our community?
Think of the information you can access and receive. Businesses can use video conferencing to expand their client base, send videos of their products, and attend webinars to keep up with the latest developments in their field. Data can be stored in the "cloud" and accessed when needed. Secure and Fast Satellite Services keep data safe from viruses and hackers because transmission is secure, beamed directly to the destination without an interception. Education is vastly improved with the Best Satellite Broadband Possible to enhance course materials and students have access to a wealth of information on the net in their classrooms and at home. Medical facilities can send and receive sensitive patient files quickly and therefore improve efficiencies in health care.
Itellum vision is to bridge the digital divide that exists between populated areas like the Central Valley and rural ones with difficult access throughout the country. The Fastest Satellite Internet is now available in Esparza and surrounding locations with Costa Rica's. For further information contact us now!
Itellum Google Web Stories