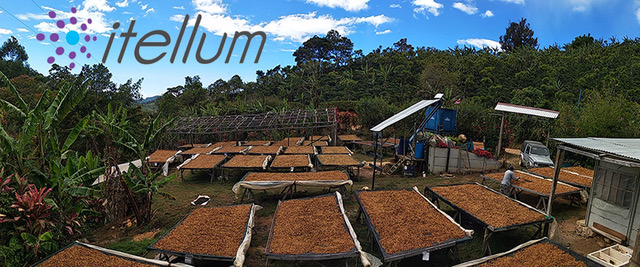 San Marcos – Tarrazú: Fast Satellite Internet is Here!
It is well-known that the canton of #Tarrazú is one of the most prolific areas for quality-grown coffee in Costa Rica. The volcanic soil of this region, the high altitude, the morning sun, and the afternoon cloud cover all contribute to the superior coffee grown in the area. The mountainous terrain is stunning in this area and San Marcos is set in the fertile valley. It is the "head city" of this canton and although it has only about 7,000 people, it can be a bustling hub of activity. Many of the people in San Marcos and its environs make their living in the coffee industry and San Marcos serves to provide the major services for the area. Somehow with its small assortment of stores, banks, and gas stations, it feels much bigger than it is. 
However it's not quite big enough to attract the major #Internet providers and as a result, it lacks reliable internet connectivity. But that's in the process of changing. The Best Satellite Broadband Possible is being provided by Itellum. Let's learn more about how this is happening.
How Itellum is Providing Internet Service to the Area?
In 2022 the ISP made an agreement with HughesNet to provide High-Throughput Satellite Broadband to 97% of Costa Rica using their Jupiter 2 satellite. This new technology will be rolled out throughout the country providing Rural Satellite Internet to areas with poor service or, in some cases, no service at all.
Why Itellum is Providing Fast Satellite Internet to Neglected Regions?
The company has been well aware of the logistics, manpower, and expense of offerin ground-based internet systems such as DSL, cable, and fiber optics. They've been supplying fiber optics to large companies and residences for years. But the expense to achieve this in hard-to-reach areas is prohibitive for traditional ISPs. Their thought process was to offer the Best Satellite Broadband Possible to homes, schools, medical facilities, and businesses and now it is a reality!
When will High-Speed Satellite Internet be available in San Marcos and the surrounding areas?
The answer is now! There is no need to wait for the infrastructure to come to you. The team of expert technicians can install your system very quickly without miles of cables and shared connections.
It rains quite a bit in this area. Is that a concern?
The misconception that rain, wind, and other forms of inclement weather render Internet via Satellite is a thing of the past. New technology and professional installation ensure your Satellite Broadband Internet remains consistent. And there are no poles or cables that can get destroyed or wait time for the repair crew to rebuild.
How will this affect the community?
Secure and Fast Satellite Services can mean a lot to commercial entities, institutions, and homes. Schools will have access to a wealth of information enabling teachers to improve their curriculums and students to explore more than ever before. Banks and businesses will have Secure and Fast Satellite Services allowing them to send large files, have video conferencing and attend or offer webinars to potential clients. And of course, live streaming movies, music, and online gaming will be a pleasure for everyone.
As far as the future is concerned, Itellum is making a difference with Costa Rica's only High-Speed Satellite Internet, bridging the "digital divide" in Costa Rica.