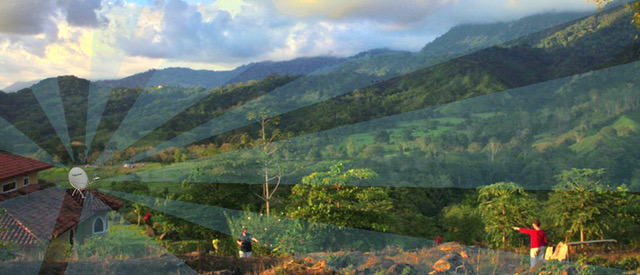 Rural Satellite Internet comes to Buenos Aires!
It's beautiful, it's green, it's natural, it's peaceful, and far away from the busy cities where you are always in a hurry and the roads are clogged with traffic. This rural canton, located in the Southern Zone in #Puntarenas province, includes a portion of the #CordilleradeTalamanca (mountain range) along its northeastern border. The valleys of the General River, #Coto Brus River and Térraba River form the center of the canton, with the coastal mountain ranges on the southeast side. Much of it is a "untouched area" and was exclusively the home of the Boruca indigenous people until 1870 when Europeans began to arrive. The canton was first created in 1914 as "de Osa" and then created as Buenos Aires in 1940 but remains separate from the Osa canton today. The canton's population is about 45,000. Within the canton is the town of Buenos Aires with a population of approximately 22,000. The Boruca population lend their rich culture to the region inviting visitors into their towns, teaching organic farming, and of course an opportunity to purchase their extraordinary, colorful, hand-crafted masks. Pure countryside with wildlife, organic agriculture, pineapple farms, and a recent element of eco-tourism is what this area has in abundance. It sounds Idyllic except for one thing that is inconsistent or non-existent — Internet.
Until now the area was basically not serviced by internet service providers due to it's location and challenging terrain. However, Itellum has resolved that concern with Costa Rica's only High Speed Satellite Internet. There's no doubt the area is a pleasure to live and work, but in todays world, connectivity is essential. Individual homes, schools, tourism and other businesses are reliant on internet in urban areas, so the same holds true in Buenos Aires.
High Speed Satellite Internet is a great option for people who live in rural areas because it is not limited by infrastructure the way that terrestrial broadband is. Terrestrial broadband depends on physical infrastructure like telephone lines and cable networks, which are not always available in rural areas. Satellite internet, on the other hand, uses a dish to communicate with orbiting satellites, so it can be installed almost anywhere. An attractive area to those that want to see the "old" Costa Rica, tour operators here can improve their bottom line with reliable, consistent High-Throughput Satellite Broadband engaging more potential customers. Commerce can increase as they have access to a wider range of products and clients. The educational system can take advantage of the plethora of information on the web that can help to expand their curriculum and give young minds direction.
Itellum offers this service using the HughesNet Jupiter2 satellite and can maintain secure and fast satellite service that is not affected by inclement weather — a problem that can affect wired internet services. Buenos Aires is about to experience what Reliable Satellite Internet and Broadband is all about. There are plans available starting at $69,99 that will bring the best High Speed Satellite Broadband Internet possible directly to you.