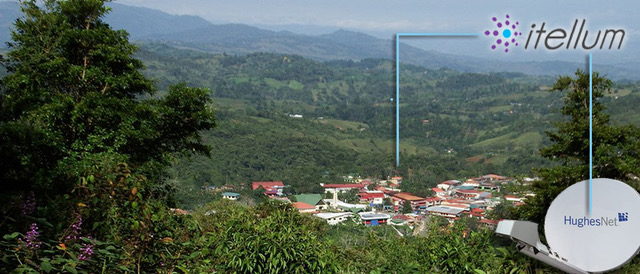 High-Speed Internet in San Vito!
As you drive through the area, with its fresh air and beautiful scenery, you get a sense that this place has an ambiance that is pleasantly distinct. #SanVito is an unusual mix of a variety of indigenous settlements, Costa Ricans, Spanish descendants, and ex-pats, all living in the lush green foothills of the Talamanca Mountains. A remote area that is a tranquil departure from city life, it has an interesting history. The district was created in 1965, however, in 1952 two brothers, Vito and Ugo Sansonetti came to the region as part of a government agricultural initiative to diversify the economy and attract foreign investment. However, strangely enough, the name San Vito does not refer to Vito Sansonetti but honors the Italian saint Vitus, "founder of villages", who coincidentally had the same name. The area has a mix of mountain forests and crops of coffee, sugarcane, maize/corn, plantains, and green beans. It's also only 6 km from Wilson Botanical Garden and Las Cruces Biological Station with more than 3000 hectares of forest, 2,000 species of plants, more than 400 species of birds, and 113 species of mammals.
If you live and work in the area or you have a vacation home here, you know the intrinsic value of this rural community. The town center has all the amenities, and the Italian influence is still here with Italian restaurants and pizzerias. The only thing that residents and businesses of the area do not have is reliable satellite Internet and broadband. That's correct. San Vito now has internet in the form of High-Speed Satellite Internet! beamed directly to your home or business from orbiting satellites, which means it's available almost anywhere in the world. And if you live in the San Vito area, outside the range of traditional terrestrial internet providers, such as cable and fiber optics, satellite internet from iTellum could be the perfect solution for you. Itellum is bridging the digital divide in Costa Rica with Secure and Fast Satellite Services using HughesNet's Jupiter2 satellite to bring you rural satellite internet for the first time directly to you. Why wait for the infrastructure of wired internet to get to you when you can have High-Throughput Satellite Broadband now?

Traditionally, in recent years, we had dial-up internet via a telephone line that was "spotty" at its best. And having an intermittent connection can be more frustrating than it's worth. However, many businesses have suffered from this for several years making it difficult to improve their incomes. Think of how you can expand your customer base by having a dependable presence on the web or how schools can improve the quality of education and expand the horizons of the students. Perhaps you built a villa in the hills where you thought you would have tourist visitors come from all over the world, but with the increase in people working remotely from anywhere, Fast Satellite Internet is essential. Without it, you may have customers that could possibly find you on the web, but if your internet is not stable or worse, non-existent, you will lose that expanding "digital nomad" market. Itellum technology ensures that your connection is not affected by bad weather or excessive rain and their experienced technicians can have you up and running in no time. Costa Rica's only High Speed Satellite Internet is available to you now with plans starting at $69,99 per month from Itellum. Just write us!