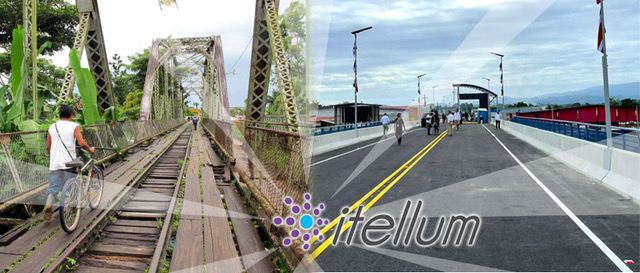 Sixaola — Satellite Internet is Your New Global Bridge
A unique fusion of Latin and Afro-Caribbean cultures accented by the indigenous Bri Bri people and their rich history and traditions, the district of #Sixaola is mainly known as a border crossing located at the town of the same name. For 100 years #Costa Rica and #Panama were connected via a railroad bridge over the Sixaola River until it collapsed in 2017. The narrow bridge primarily served people crossing the bridge on foot and necessary transport trucks. Finally, in 2021, a new bridge, known as the binational bridge, was built alongside the old one and inaugurated in March 2021. It serves 15,000 residents of the border towns of Sixaola and Guabito, Panama in addition to the 150,000 people who cross this border annually. It serves to bridge the gap in the movement of goods between these countries as well as the Mesoamerica region and in turn, contributes to the improvement of their economies.
Although many tourists pass through the town, there are only limited eateries like sodas and restaurants, and very few tourism services with basic accommodations. The majority of commerce is based on the administration of the border and surrounding agriculture. That being said, the one service that is a must is reliable and fast Satellite Internet.
Why Internet via Satellite?
Being in such a far-removed area of the country, Sixaola and the surrounding area are too remote for most Internet Service Providers (ISP) to entertain the expense of putting infrastructure on the ground. The installation of a wired network like fiber optics would mean huge costs to the companies and would have to be passed on to the consumer. High-Throughput Satellite Broadband solves that concern because it requires no terrestrial network and no large construction crews.

How do I know Rural Satellite Internet is available in Sixaola?
Itellum is the official satellite internet provider for Costa Rica using the HughesNet Jupiter2 satellite which covers 97% of the country and the coverage area includes Sixaola!

What about reception during bad weather?
With advanced signal processing technology built into their satellites and receivers, Itellum High-Speed Satellite Internet signal stays strong even during heavy rain. This makes it more reliable compared to other providers that experience frequent outages during inclement weather conditions.

Is it fast enough to stream movies?
Satellite Broadband Internet is suitable for streaming plataforms. High speed and low latency mean you won't experience buffering when you're trying to stream a movie or catch up on your favorite show online without any interruptions.
Can Fast Satellite Internet Improve the Efficiency at the Border Crossing?
Administrative offices at border crossings deal with a large volume of paperwork and sensitive documents. Secure and Fast Satellite Services deliver the transmission speeds needed for the delivery of a heavy volume of documents to their intended destination quickly, making it possible to process people and products more effectively. Data is beamed directly from the source to the end target, minimizing the possibility of interception and enhancing security.
The High-Speed Satellite Internet is being delivered to the Sixaola district and promises to be a vast improvement over internet services previously available. This not only benefits businesses, homes, and government agencies, it improves the education level in schools and gives them access to online courses not just in Costa Rica, but worldwide.
The new binational bridge between Costa Rica and Panama was long overdue, but today it's a reality. Itellum is "bridging the digital divide" with Costa Rica's only High-Speed Satellite Internet and that's a reality too! So, you must contact us now!
Itellum Google Web Stories