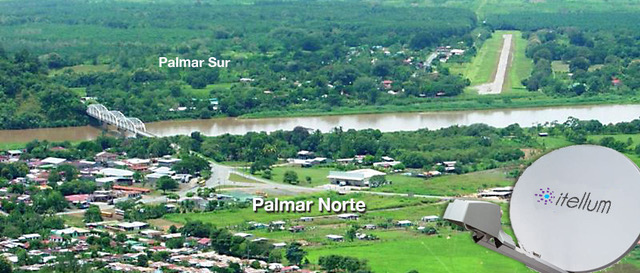 Palmar Norte – Stone Spheres & Satellite Internet
As you drive through town, something that seems out of place is the steam locomotive #84 restored to its original glory parked on the lawn of #PalmarNorte Park. But it actually has a significant role in history transporting bananas during the decadent era of the Banana Company in the southern zone from the 1930s to the 1980s. There's even a stone sphere beside it. And the stone spheres are another peculiarity of this town as there are many of them to see since being preserved by archaeological authorities. Palmar Norte is separated from Palmar Sur by the Rio Grande and is connected by a narrow steel bridge. Although this is a small town, it serves as a vital transportation hub for southern Costa Rica because of the airport in Palmar Sur. Once an agricultural center and still a major banana producer, Palmar Norte is surrounded by dense mountain forests and is close to local beaches for those so inclined.
There's a lot of commerce going on here although the town, (if you combine both Palmar Sur and Palmar Norte is only about 5,500 people), has an interesting cultural twist with a Chinese population evident in the authentic Chinese cuisine found in many of the restaurants. Since it's close to national parks and beaches it is a convenient stopover for travelers and hence has a variety of accommodations. But it's hard to imagine living without reliable internet or even sporadic internet. We rely on it for work, school, entertainment, socializing, and so much more. But in remote and rural areas like Palmar Norte, access to high-speed internet can be scarce. This is where High-Speed Satellite Internet comes into the scenario. High-Throughput Satellite Broadband requires no infrastructure on the ground, which means it can be beamed directly to you no matter how remote your location is. And that's how iTellum's Rural Satellite Internet is changing Palmar Norte for the better.
Satellite Internet is Fast and Reliable
One of the biggest advantages of Reliable Satellite Internet and Broadband is that it's fast and dependable. Unlike terrestrial internet options like cable and fiber optics, which require extensive infrastructure on the ground, Satellite Broadband Internet is beamed directly to you from a satellite orbiting the earth. This means that you can get high-speed internet no matter where you live and you'll never have to worry about your service being interrupted by a storm or other weather conditions due to this new technology employing the HughesNet Jupiter2 satellite.
Satellite Internet is Perfect for Remote Locations
Another advantage of the Internet via Satellite is that it's perfect for remote locations. If you live in a rural area that's far from any major city center, you may have trouble getting access to terrestrial internet options like cable or fiber optics. However, with the Best Satellite Broadband Possible, you can get the same high-speed connection as everyone else no matter where you live and it's perfect for off-grid living.
Satellite Internet is Affordable
Another great thing about Itellum Secure and Fast Satellite Services is that it's affordable. If you're on a tight budget, you'll be happy to know that Satellite Internet plans are often less expensive than terrestrial internet plans. Plus, since there's no need for extensive infrastructure on the ground, deployment and maintenance are more cost-effective for the supplier.
If you live, work, or have a business, and for schools, hospitals, and emergency services, Costa Rica's only High-Speed Satellite Internet by Itellum is more than a viable option. Call us now!