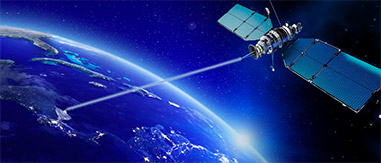 Costa Rica High-Speed Satellite Internet offered by iTellum
Costa Rica has been on the map for many audiences now for several reasons and something to consider is the High-Speed Satellite Internet offered by iTellum that keeps this country reporting 76% of the population as internet savvy. Yes, this small Central American country is more internet active that Mexico! So one may wonder how is this even possible?
Costa Rica has had a love affair with technology for many years and High-Throughput Satellite Broadband Internet is making it to the forefront of Costa Rican aspirations. If one looks at the history of the development of the hi-tech industry in the country, one can see how the educational system here fueled the skilled labor that attracts the IT sector to this destination.
This small country bordered by Panama to the south, Nicaragua to the north, the Pacific Ocean to the west and the Caribbean Sea to the east, has proudly publicized the absence of an army since it was abolished in 1948. Its population has a 97% literacy rate and is categorized as one of the happiest countries on the planet. Although there are only two seasons, the summer or dry season, and the winter or green or rainy season, the country has 5 major climatic regions with about 12 microclimates. This is due to the diversity of the terrain; from cold, misty mountains to hot, humid rainforest, to dry tropical forest to sunny, sandy beaches, Costa Rica has almost every type of weather short of snow. And that's what makes it attractive to many people; one can choose where to locate based on your climatic preferences. And no matter where you go, you can find a way to connect via the Fastest Satellite Internet Available in the country.
The skilled workforce here has enticed high tech industries to locate their operations here making Costa Rica's only High-Speed Satellite Internet provider, iTellum, a welcome addition to the sector. Costa Rica is home to more than 800 technology companies including 29 of the Fortune 100 such as Amazon, Intel, Dole, P&G, Hewlett Packard Enterprise, IBM, and many more. The central valley has many choices for internet making it easy for consumers and companies alike to stay connected. But many of the internet providers concentrate on the highly populated areas. Areas where the population density is made up of condominium complexes, high rise apartment buildings, shopping malls, and industrial centers.
Once almost totally agriculturally-based, Costa Rica thrives on the diversity of its tourism. It attracts a wide variety of travelers with it's 5 active volcanos, thermal springs, and more recently an eco-based tourism platform that is complemented by various educational courses available on-site or online. Many of the eco-tourism venues are located in remote areas where access to the outside world is limited. There are many communities that can now "connect" through Rural Satellite Internet that was not previously available to them. Now areas in and near the Caribbean coast, Limon and surroundings, and in the southern zone near Golfito and Puerto Jimenez can enjoy Reliable Satellite Internet and Broadband as iTellum begins to roll out the service with speeds from 20 Mbps download / 2 Mbps upload up to 50 Mbps download /5 Mbps upload. This will give the school systems in these outlying areas Satellite Broadband Internet that they have never experienced before! It will provide opportunities in education, commerce and general development of infrastructure. To make this possible, iTellum will be utilizing the HughesNet Satellite named Jupiter 2 that is a Ka Band-High Throughput Satellite that will cover the vast majority of Costa Rica and many rural and unconnected areas. HughesNet is a wise choice for iTellum as it has earned top rankings for 4 consecutive years for delivering or exceeded advertised download speeds.
Limon has not received the attention of the government as far as infrastructure is concerned. But that's changing as the Port of Limon operations gets un upgrade and invites more industry and tourism to the area. With the increase in tourists primarily from Europe and short term from the cruise ships and the development of new businesses related to import and export, comes the need for the Best Satellite Broadband Possible. The Limon International Airport could receive some upgrading to handle the increase in business and tourist traffic. Previously the airport facilitated only charter or private flights, as it's international designation is underutilized. However once upgraded and using High-Speed Satellite Broadband Internet, it will be a hub for the east coast towns and possibly provide access to the Caribbean countries and South America.
If we venture to the other side of the country, we are met with the Pacific port towns of Puntarenas and Caldera. Approximately 13% of the country's exports and 28% of agricultural exports pass through this port making it a prime candidate for Secure and Fast Satellite Services. Although the majority of the exports are destined for the United States, 62% of these products go through Caldera to China, Singapore, Argentina, Chile, and Peru. Similar to Limon, Puntarenas/Caldera hosts many cruise lines housing thousands of passengers that visit the port areas almost daily. Tourists on shore excursions can enjoy Fast Satellite Internet while they are in port or venturing out on selected tours. Puntarenas-Caldera can be considered somewhat of a crossroads, and a gateway to the rest of the Pacific coast given the Pan American Highway (Hwy 1), the José María Castro Madriz Highway (Hwy 27) and the Pacífica Fernández or "Costanera" (Hwy 34) . You can go further north to Guanacaste or take a ferry to the Nicoya Peninsula. You can also go further south in the Central Pacific area or all the way to the South Pacific.
Traveling to the Southern Pacific region, the landscape is lush and green and is an eco-destination that is becoming quite popular. Golfito, yet another port town saw it's an era of prosperity when it was an active banana port in the 1930s. This lasted some 30 or 40 years when the eventuality of soil depletion, blight, and labor problems forced the United Fruit Company to vacate its operation. This lead to the opening of the Golfito Duty-Free Zone that today is a major employer of the area and gives Costa Ricans and visitors a tax break and brings tourism to the area. The "Deposito" houses 50 duty free stores selling large and appliances, perfumes, cosmetics, electronics, liquor and more. Many of the stores have websites that you can access to see their offerings so you don't spend so much time shopping. The Duty-Free Zone operation and the surrounding hotels and businesses take full advantage of the best satellite service in Costa Rica.
One thing that the areas of Limon, Puntarenas, and Golfito have in common is that they are world-class destinations for sport fishing. Being able to fish these waters and enjoy the beauty of the country whilst still having a "working" presence online can be the solution for many travelers and is made possible with the High-Throughput Satellite Broadband that iTellum offers.
Of course, the hub of the entire country is focused in San José in the Central Valley. And although there is no shortage of internet providers, there is a difference in the caliber of their service and there are areas within the Central Valley and outside of it that have inferior coverage or no coverage at all. Areas like Puriscal, Esparza, Grecia, San Isidro de El General, Guapiles, Siquirres, and Bribri to name only a few. Although Ciudad Colon is only a few minutes west of Santa Ana, there are communities that have limited internet or none at all. The University of Peace, created by the United Nations, offers master's degrees and doctoral programs in Peace and Conflict Studies and is located just outside of the city center. With centers and offices in Addis Ababa, New York, Honduras, Geneva, Bonn, The Hague, Manila and Beijing, and numerous affiliates throughout the world in Africa, Europe, Asia that are active in distance education programs, the university can further benefit from the Fastest Satellite Internet Available.
iTellum is filling in those gaps in connectivity. Many of these areas have been ignored in the Costa Rican internet market and can greatly benefit from reliable internet. Not only will it help to bring tourism and development in industry and real estate in these areas, but it will help to continue the supply of skilled labor through improved educational access for upcoming students. This, of course further fuels the economy, something that is tantamount in the survival of any country in this era.
From it's natural beauty to environmentally conscious energy production, to eco-tourism, sustainable tourism, and an entrepreneurial spirit, there is always more to appreciate here. Medical technologies are growing and in 2017 medical devices were Costa Rica's number one export. In 2018, Costa Rica exported more than US$3.3 billion in technology, information, and communication which was equivalent to approximately 5.8% of GDP. Costa Rica has so much going for it, it's not difficult to understand why it's a popular destination.