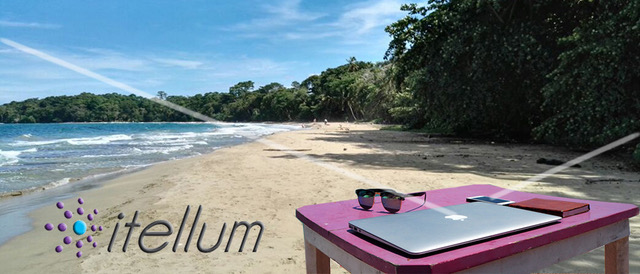 Cahuita – Satellite Internet is Connecting You
We know Playa Cahuita and Cahuita National Park, but the district of #Cahuita also includes some of the best beaches in #Costa Rica. With a resident population of just over 13,000, this area experiences an ebb and flow of tourists that come to experience the "other side" of Costa Rica. Located in the canton of Talamanca, it has the largest #indigenous population and as you further from the beaches, there is less infrastructure. And so it is the attraction of Cahuita National Park and the Jairo Mora Sandoval Gandoca-Manzanillo Mixed Wildlife Refuge coupled with the Afro-Caribbean cultural influence and beautiful beaches that keep tourists coming back. As you travel the coastline you will find the most popular beaches of the area; Playas Blanca, Vargas, Cocles, Chiquita, Puerto Viejo, Punta Uva, Manzanillo, and hidden ones along the way. The culture is rich and the food is uniquely Afro-Caribbean serenaded by the sounds of reggae and calypso. The business owners here are welcoming and want to provide you with the best experience with their hospitality.
It sounds idyllic and is a colorful, vibrantly distinct, experience that would appeal to many #DigitalNomads". There are many different types of accommodations, from vacation home rentals, hotels, bed & breakfasts, and hostels to provide housing. But Digital Nomads need solid #Internet — somewhat of a scarcity here. This scarcity has been addressed by the introduction of Costa Rica's only High-Speed Satellite Internet now being served up Itellum-style.
The Internet Service Provider, Itellum is currently offering internet via satellite to 97% of the country.
How is this possible?
Through the use of the HughesNet Jupiter2 Satellite using a Ka-band frequency which allows a higher bandwidth bringing High-Throughput Satellite Broadband to rural and remote areas with limited connectivity or no internet access at all. But enough technical jargon, let's get down to what it means for the district of Cahuita.
How long will it take to get to Cahuita?
Since High-Speed Satellite Internet is beamed to you directly from a satellite orbiting the earth, there is no need to wait for the construction of a wired infrastructure. Sources such as DSL, Cable, and Fiber optics require a wired network to be physically installed in your area. With satellite internet, all the necessary equipment is installed at your home or business and is only a phone call away.
What about the reliability of Rural satellite Internet?
It is a common belief that High-Speed Satellite Broadband Internet can be unpredictable during rain, wind, and other types of weather common around Cahuita. However, this is a misconception. Reliable Satellite Internet and Broadband are possible because it lacks cable connections and hubs that can be affected by nasty weather and there are no poles that can be destroyed during floods, storms, or vehicle accidents. Furthermore, there is no waiting for the infrastructure to be repaired before you can get your service back. New technology has also amplified the signal making it more resistant to what's known as "rain fade".
How long does it take to get connected? I can't afford to have installers at my business for a long time.
Itellum experienced technicians perform professional, clean, installations efficiently the first time, bringing you the High-Speed Satellite Broadband Internet in just a few hours. You will be provided worry-free service that will help you to expand your client base and attract clients that want to work remotely in your paradise!
Itellum and its founder Tim Foss had a vision; one that he voiced last year when the company received official approval as the official satellite internet provider, "We are committed to closing the digital divide in Costa Rica and we want to be taken into account for the development of projects where it is impossible to deploy fiber optics, copper or coaxial cable and even where there is no coverage of 3G and 4G mobile networks."
This is a game-changer for Cahuita; its residents and its commerce. From streaming movies and music for homes, and webinars for schools, to video conferences and sending large files for businesses, Secure and Fast Satellite Services brings benefits and opportunities to the community. It represents a huge positive impact on your business and your home life. It's the perfect, immediate solution to a new-tech problem. So you must contact us now!
Itellum Google Web Stories