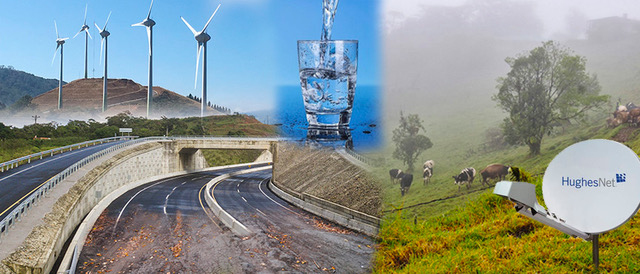 How Costa Rica is Expanding its Tourist Destinations
The sense of adventure, wildlife, beauty, and the "pure life", Pura Vida, is alive and well in Costa Rica. It always has been. In the past accessibility may have been challenging, but Costa Rica is taking measures to appeal to a wider audience and make it easier for travelers to enjoy the country. Now that many countries are opening up after a two-year hiatus from normal operations due to COVID, Costa Rica is aspiring to make inside its borders even more inviting.
An ingredient of a tourist's recipe for a great vacation almost always includes superior internet access. This may not have been as true 15 years ago, but it certainly is now. Even if you are on an adventure to a remote area, rural satellite internet is now available through iTellum. This is a very important move for Costa Rica, making iTellum a company that is making history by closing the technological gap by bringing satellite internet to areas that have never had internet or have had very poor service.
The concession was signed by the Minister of Science, Innovation, Technology, and Communications and by the previous President Carlos Alvarado in April of 2022 and marks an important development for Costa Rica bringing High-Throughput Satellite Broadband and 1:1 Fiber Optic Internet Connectivity to 97% of the national territory. Tim Foss, Founder, and CEO of iTellum recently had this to say, "We will connect as many under-connected and disconnected students, teachers, schools, health facilities, rural towns, beaches, parks, and Indigenous zones as quickly as possible throughout Costa Rica with HughesNet High Speed Satellite Internet. Itellum has a greenfield opportunity to quickly begin connecting the forgotten, ignored, and overlooked rural zones." This newsworthy development helps put Costa Rica on the map for digital nomads and other vacationers, many considering changing their home base permanently.
The country is making significant infrastructure improvements that are benefiting its citizens and businesses. One of the most notable changes is the improvement in road quality and availability. In the past, many rural areas were only accessible by dirt roads, which made transportation difficult and often treacherous during the rainy season. But recent investments and efforts have made it possible to travel to even the most remote parts of Costa Rica. This has had a positive impact on trade and commerce, as well as making it easier for people to access essential services. Even the roads within the central valley are being improved. Extreme weather conditions and less than desirable workmanship and inferior materials have rendered the main road systems hazardous. With the addition of new roadways and regular professional maintenance, hopefully, the potholes littered with pieces of road will totally disappear soon!
Meanwhile, while the roads are being repaired, they are also undergoing construction beneath the surface to upgrade aging or inadequate water mains and sewage systems. There are still areas in the country that experience water shortages, planned or not. However, 99% of Costa Rica's population has access to water sources, but not all of these water sources would be considered potable water. You can drink the water in most populated areas, but if you are in extremely remote areas, it would be best to ask or better still, drink bottled water. As the public water and sewage agency (AyA) continues to upgrade the water systems throughout its jurisdiction, the water quality and reliable access to potable water will improve, especially in remote areas.
The country has been making headlines with its self-sufficiency in renewable energy generating 98% of the electrical energy for the entire nation in 2016. They have continued to pursue this endeavor with modifications to accommodate the recent demand. The projection for 2022 includes the five renewable sources available to the Costa Rican matrix – water, geothermal, wind, biomass, and sun – and would make up 98% of the national generation.
Costa Rica is noted for its natural beauty and environmental agenda, and although the road improvements help a great deal to get to these stunningly awesome areas, the tourism industry needs to be able to get its message out to the public first. For business owners and tour operators reliable, fast internet is a must. With the rolling out of the new rural satellite internet via iTellum powered by the HughesNet Satellite, the sellers can broadcast their adventures online and the vacationer can reserve these unique experiences ahead of time or when they are in the country. iTellum chose HughesNet for its solid reputation and its award-winning satellite internet service from the FCC for offering the best satellite service in the United States. The impact Secure and Fast Satellite Services is having on tourism can be a game-changer for small and medium businesses in outlying areas while at the same time giving your holiday a memorable experience you might not have known about otherwise.
Given access to the Best Satellite Broadband Possible, tourism suppliers are broadening their offerings to include wider audiences such as children's attractions, 50+ excursions, LGBTQ cruises, and naturalist events. The long-neglected Caribbean coast is now able to better publicize its offerings so travelers can be aware of what's available at those gorgeous turquoise Caribbean beaches and surrounding areas.
The Costa Rican Tourism Board (ICT), has been working with various airlines to increase the frequency of incoming flights and the number of seats airlines from around the world to the airports in Liberia and San José post COVID-19. There have also been efforts to attract different countries that had not been previously approached concerning Costa Rica as a travel destination. The UAE (United Arab Emirates) and other areas of the Middle East have initiatives that promote Costa Rica including air connectivity and travel packages.
Costa Rica is quickly becoming "the" go-to tourist destination and with good reason. The country has worked hard to expand its infrastructure in recent years, making it easier and more accessible for tourists to visit. Couple this with some of the most breath-taking landscapes on earth and you have a winning combination. iTellum is proud to be helping Costa Rica with its expansion efforts by providing reliable and secure satellite internet connections throughout the country. If you or your company want to be part of the Costa Rican tourism market escalation, it is a necessity to have access to Reliable Satellite Internet and Broadband. iTellum has you covered with the Fastest Satellite Internet Available throughout 97% of the country and we invite you to explore the possibilities.
Itellum Google Web Stories