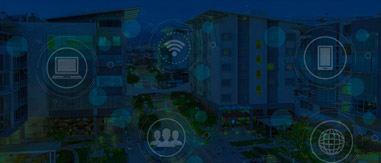 Escazú High-Speed Satellite Internet
Bordered by Sabana, Pavas/Rohrmoser and Santa Ana, the population of Escazú is growing, and as of June 2020, hovered just over 70,000 inhabitants. People in Costa Rica, refer to the area as the "Beverly Hills" of Costa Rica. Within 10 minutes of the capital, San José, it is an all-embracing mix of old colonial elegance and new upscale trendiness, and it is considered one of the most affluent neighborhoods in the central valley. The majority age of the residents here range from 15 to 64 and are devout internet users that enjoy the Internet via Satellite supplied by iTellum, a company known to also supply superior 1:1 internet via fiber optics.
The 3 districts within the greater area of Escazú are, Escazú Centro, San Antonio, and San Rafael. From San José, via Highway 27 (the main artery to the Pacific coast) one passes through Sabana and then enters Escazú flanked by numerous commercial centers and office buildings. The other main artery intersects at Sabana and leads directly to the airport making Escazú a prime location for businesses and residential development. That's the reason iTellum located their corporate offices here, giving them ease of access to their surrounding markets offering Costa Rica's only High-Speed Satellite Internet.
The first large indoor shopping mall, Multiplaza in Escazú, is what triggered the development of other commercial and industrial outlets in the area. Since it opened in 1993, Multiplaza has had several expansion phases and houses over 60 multi-national and local companies. Quality, international brands like Tommy Hilfiger, Lacoste, Zara, Nike, Guess, Calvin Klein, Gap, Apple Computer, Sony, Samsung, and many others. There are several restaurant chains and a comprehensive food court including MacDonalds, Taco Bell, Subway, and the like, as well as "sit down" dining in Inka Grill, IL Gourmet, and Tintos y Blancos. There is a selection of movie theaters and the most popular banks in the country. When you inside of the mall, it would be difficult to differentiate your surroundings from that of a mall located in the United States, Canada, or even Europe. Since the San Rafael de Escazú area is located on Route 27 connecting the capital of San José and the Pacific coast beach areas, it is well-traveled and in close proximity to many relatively new complexes including offices complexes with law firms, real estate and development companies, construction companies and more. Shopping centers with both businesses are hotels such as Outback Restaurant, Hooters, and Marriott Hotels are also here. New shopping centers include Avenida Escazú, Plaza Tiempo, and Escazú Village with businesses like Walmart, Cemaco, Imax Theater, Toyota, Harley Davidson, and a wide assortment of gastronomic locations with extraordinary dining choices. All this business activity screams for Reliable Satellite Internet and Broadband.
Many of these new commercial developments combine a multitude of dining and shopping experiences with offices and upscale lifestyle options, primarily mid to luxury condominiums. This kind of demographic locates where they have access to High-Speed Satellite Internet. Home furnishing stores and appliance and hardware outlets such as the hardware chain EPA and Construplaza are all close by. One will also find state-of-the-art Cima Hospital, Pricesmart, and Office Depot on Route 27. The office complex of Plaza Roble (Escazú Corporate Center) is a stunning business development attracting some large companies making it their home office in this area of high-density commerce. Dole, Banco BAC San Jose, Leo Burnett, JW Marriott, Microsoft, Cisco, and many others all have offices here due to the availability of iTellums Fast Satellite Internet solutions utilizing Jupiter 2 satellite by HughesNet.The Intercontinental Real Hotel and Convention Center is in the same neighborhood and is often host to conventions and special events for the surrounding corporations.
Known to attract an upscale, somewhat elite population, Escazú offers some superior educational facilities, both public and private. Blue Valley, Saint Mary, Prodigy Kids Academy, and Mountainview School are just a few of the schools that require a student to meet computer proficiency standards in order to be accepted in colleges abroad, in the United States, Canada, South America, Europe, and Asia. There are classes that are a hybrid of in-class and online instruction and participation. Although many areas of Escazú have excellent internet, the need for Secure and Fast Satellite Services is tantamount in more remote areas especially south of San Rafael in the mountains where you arrive at Escazú center, the original town of Escazú.
As you head south into the mountains, you arrive at Escazú Centro. This is the "original" town of Escazú, the village of old with its historic adobe structures and Spanish colonial homes. Such a contrast to the high tech activity that encompasses commerce here, is the revered legend of the witches of Escazú. This is the land of witches (or brujas in Spanish) tales and stories of other creatures that are depicted by decals, bumper stickers, and signs of a witch on a broom that give the town a unique ambiance and make it special. This is an area that embraces the "old" Escazú, the "country-style" typical restaurants, like La Casona de Laly, La Posada de las Brujas, La Catrina, and many other small cafes and sodas that offer typical Costa Rican dishes at reasonable prices. You can find quaint hotels and bed & breakfasts that attract tourists and locals alike. The surrounding agricultural lands supply the weekly farmers market and organic markets. It is a treat to visit them to buy the abundant fresh produce. The regular market is in the center of town by the architecturally dominant church and a picturesque town square where locals collect and socialize. This "old world" atmosphere blends with the new shopping centers like Plaza Atlantis and Plaza Maynard which are more akin to strip malls and offer everything from banks to grocery stores, pharmacies, and boutiques and somehow all these are linked via Satellite Broadband Internet.
Further up the mountain is San Antonio with a more rural setting and older homes intermingled with condominiums and palatial estates. Farming communities decorate the hillsides and have the most fantastic views of the valley. Much of the land in the area is designated nature reserve and so is limited in the percentage of land that can be constructed. Fresh, cool air is plentiful and the quaint church and town square dominate the center of town. As you drive out of the area and into the mountains you'll find restaurants with awesome vistas like Mirador Tiquicia, Mirador Valle Azul, and hotels like Hotel Pico Blanco. El Día de Los Boyeros is an annual event in March known as a festival of traditional food, arts and crafts, and a parade of over 100 colorful wooden carts driven by oxen. Costa Rica has a proud history of transporting crops with intricately painted wooden oxcarts which are driven through the streets by the families involved in this tradition for generations. At one time this mode of transportation was the "lifeline" of Costa Rica traversing mountain ranges on narrow roads bringing produce and coffee to market.
As you go higher into the hills, the roads narrow and the mountainous scenery is an obvious choice for hiking. A popular place to hike in San Antonio is Pico Blanco, a rocky outcropping which will take you to an altitude of 2271 meters (7451 feet) above sea level. The trail involves rock climbing and fantastic waterfalls surrounded by beautiful flora and fauna. The locals know this mountain as "La Cruz," because of the large cross that has been built at the very peak. There are three crosses in total. The first one is made from concrete; the second one is a steel cross set atop a concrete pyramid. The third, which is at the peak, is the tallest of the three and is made of steel. From the top vantage point, it is possible to see almost the entire Central Valley including the city center of San José. On a clear day, you can see both the Pacific and Caribbean coasts.
Monte Tapezco is within the same mountain range as Pico Blanco and is where the quaint town of Bebdero is located. The area was somewhat isolated from the rest of Escazú because there was no bus service until the 1990s. This is yet another agricultural area with numerous farms producing a variety of crops that reach country markets as well as grocery store chains. Above the town stands a number of telecommunication towers which have served the surrounding areas for many years, yet had very little impact on the little town. However today the demand for upgraded internet is made possible through Rural Satellite Internet giving a new perspective on rural life and opening avenues that were previously closed.
Escazú is such a unique blend of old and new, country and city, traditional and trendy, and a recipe of cultural, commercial, and financial ingredients that come together as a community with the Best Satellite Broadband Possible in Costa Rica.